Let us Post your Christmas Cards
Time is very precious and if you want to save some, then you are welcome to ask us to handle the posting of your cards for you. 100% confidentiality is guaranteed.
All you need to do is just send us a file with the names and addresses of your clients and we will post these cards out on your behalf at a time of your choosing.
What does it cost?
In addition to your cards, there are four other charges that can apply to mail out campaigns:
Inserting Fee is 45 cents each - includes folding and inserting the card and labelling the envelope and preparing for the mail. For short runs, we include a stamp and card only sticker or birthday sticker as appropriate. For longer runs we use a Postage Paid imprint and print the Card Only or Birthday message directly to the envelope.
Postage at Australia Post standard rates. Christmas cards still get a special rate of 65 cents from Australia Post in November and December. All cards at any other time of year are $1.10 each
$50 set up fee to receive your data and print individual recipient addresses on your envelopes.
Optional $50 set up fee if you wish to have individual names inside every card as part of your message.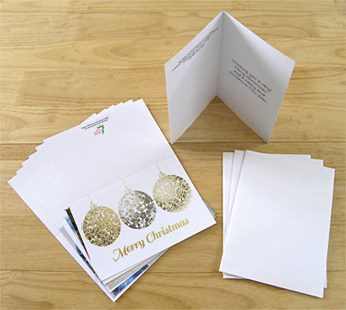 Want to discuss your requirements?
Contact us and we can run you through some options!