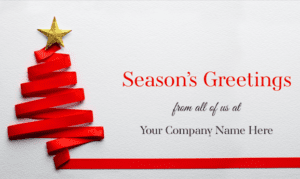 We are getting so close to the Christmas season that you should start preparing for your coming holiday marketing campaign. You need to take advantage of the rise of consumer shopping spend during this season. Even the simplest business promotion during this time can boost your business for the coming year. What better way to promote your business through the time-honored tradition of sending Christmas cards?
Sending a Christmas card to clients, suppliers and business partners is one of the best ways to build lasting relationships. Showing that you remember them in this festive season and letting them know your appreciation can go a long way. Because they are distinctly personal, Christmas cards can have a huge impact when done right.
Tips for Effective Business Christmas Cards
Planning to send business Christmas cards this coming season? Here are some tips to make them even more effective:
1. Personalise your business Christmas card design.
It might be tempting to use some generic store-bought Christmas cards to send to your clients because they are inexpensive. In reality, this could damage their perception of your business. Instead, opt for a custom business Christmas card complete with your own logo on the front.
Australian Christmas Cards lets you customise your business Christmas card design with your company name and logo.
2. Write a personal message to the recipient.
Generic "Season's Greetings" or "We wish you a Merry Christmas" is boring. Instead, write a personal message that is tailored to your recipient. It doesn't have to be long. A short simple message saying that you appreciate your partnership and look forward to working with them in the future can be effective in building and maintaining your client relationship.
As you place your order with us, you can customise the message that we will print in your card along with the font and colour.
3. Incorporate a donation to charity.
Christmas is a season of sharing. If you are going to send a business Christmas card, why not do it while donating to your preferred charity? Australian Christmas Cards allow you to donate 50 cents per card to your charity of choice. Check out the list of charities we support.
See also: Five Rules of Starting your own Business
Print Business Christmas Cards Today!
Don't wait until the last minute to create your business Christmas cards. Get yours today! Check out our wide range of designs in our corporate business Christmas cards page. All of our cards measure 185mm x 110mm when folded and comes with free self-sealing envelopes. Want to know more about our business Christmas cards? Get in touch with us on 1800 226 202 or (02) 9631 3366 or email us at sales@austchristmascards.com.au today.