The holiday season is well underway and for businesses, it is one of the most important marketing seasons. Many businesses engage in several holiday marketing promotions to take advantage of the Christmas rush. Simple marketing campaigns such as discount and gifts can go a long way. But if you want to be more personal when you send gifts to your close clients, include a handwritten note on a Christmas card.
Reasons to Send a Christmas Card to Your Clients
Christmas cards provide an important chance for you to build a relationship with your clients. If you are not sending Christmas cards to your clients, you are missing out on a golden opportunity to let your clients and business partners feel valued. If you are still on the fence, see the list below: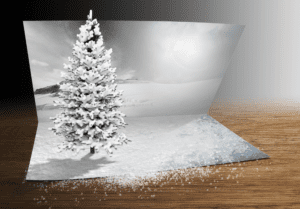 1. Christmas cards put you directly in your client's hands
If you want to improve brand recall, Christmas cards are one of the best tools to improve your branding. By itself, a Christmas card is a unique way to stay in touch with your customers. But if you integrate it into your other holiday marketing campaigns, it could provide an extra oomph to your promotion. Put your name and company name and logo in a Christmas card design and you will be put literally in the palm of their hands.
2. Christmas cards improve customer retention
As consumers, we prefer businesses who make us feel valued and give exceptional customer service. One of the ways businesses can show their appreciation to their clients is by sending Christmas cards. Wishing your clients "Merry Christmas" and going out of your way to print custom Christmas cards for them will show that you value them and you are looking forward to maintaining your relationship with them.
3. Christmas cards help you stand out
Sometimes, the traditional has a greater effect compared to the digital. In an age where it is easier and cheaper to just send an email to customers, going the extra mile can help you stand out more than your competitors. By sending a Christmas card to your clients, you are giving them a tangible expression of your appreciation.
Print Business Christmas Cards Today
Convinced to print Christmas cards for your clients? Check out our wide range of designs in our Business Christmas Cards page. You may also call us on (02) 9689 1747 or email us at sales@austchristmascards.com.au to get a custom Christmas card.